---
Korean War Retro: American Defeat at the Nov. 1950 Battle of Kunu-ri - Martin Timothy - 06-24-2020


Quote:[size=14px]

"The Gauntlet," America's Korean War Catastrophe - The Nov. 1950 Battle of Kunu-ri was the bloodiest defeat America had suffered since 1945, when Chinese troops from the People's Volunteer Army sprung the biggest ambush of the 20th century.

AsiaTimes.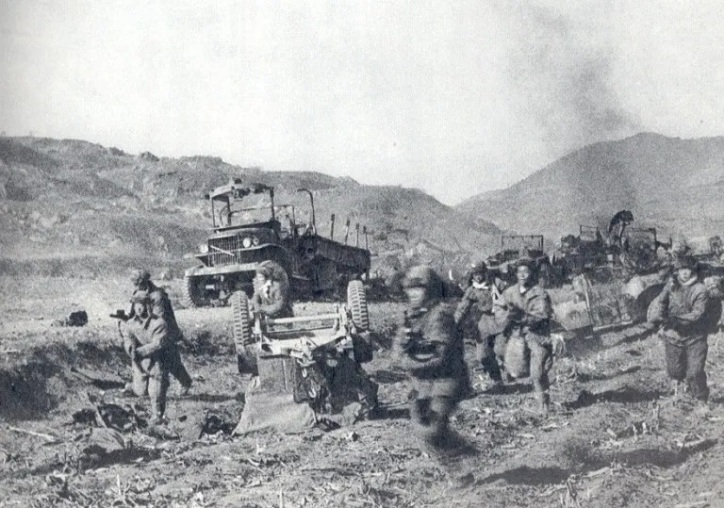 Chinese troops dash through the wreckage of US vehicles in the Kunu-ri are of operations, November, 1950. AsiaTimes.


Quote:In November 1950 the North Korean Army that invaded South Korea had been routed, and the US led United Nations Command or UNC had counter invaded North Korea. It looked like game over the soldiers were told they would be "home by Christmas."

The Chinese People's Volunteer Army had other ideas .. in deep cover the communist troops who had secretly deployed to North Korea, awaited the UNC columns as they thrust north toward the China border, the terrain was rugged the temperatures brutal: −30 °F (−34 °C).

In these conditions, Chinese troops sprung the biggest ambush of the 20th century, surprise was near total, taking advantage of road bound UNC troops, the Chinese assaulted deep .. their tactic "the human wave" was based on Sun Tzu's advice to "attack like water." It was simple but brilliant.

Mass frontal assaults fixed UNC units in position while Chinese sub units infiltrated around the flanks to establish roadblocks and ambushes in the rear. Once the UNC units broke contact and mounted their vehicles to pull out they would be driving into a kill zone .. Units were overrun. Chaos reigned. Decontrol threatened.

Kunu-ri Pass was the line of withdrawal for the battered US 2nd Infantry Division, or 2ID. The division's frontage was collapsing its flanks were in the air. Turkish troops sent forward to plug gaps in the line were decimated. Getting through the pass became a race against time for Chinese troops were moving fast cross country to cut 2ID's retreat.

South of Kunu-ri the winding mountain track was enfiladed by two Chinese divisions, dominating the ground with machine guns and mortars. A 10 kilometer trap awaited the retreating Americans. On November 30, 2ID entered the pass .. the first units – armored vehicles – passed through.

When the miles long convoy of trucks and jeeps began rumbling through, the Chinese unleashed. British troops holding open the southern end of the pass, watching shattered vehicles rattling into their perimeter, were reminded of descriptions of Elizabethan naval battles, when the wooden hulls of warships were shot through and blood ran through the scuppers. Andrew Salmon @ AsiaTimes.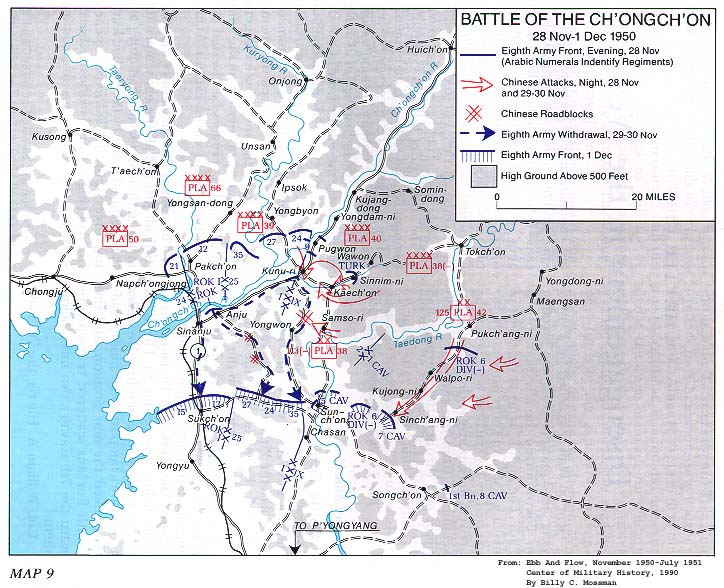 Wiki.


Quote:Kunu-ri was part of the greater Battle of Ch'ongch'on River that went from from November 25 to December 2, 1950, in north western North Korea.


Wiki.


Quote:Chinese forces set up ambush and overrun a UN position on the Ch'ongch'on River, North Korea.
---