---
Sacramento Police Order Residents to Stay Inside Due to Coronavirus Fears - Martin Timothy - 03-07-2020



GatewayPundit.com.


Quote:GWP, "this is a frightening development."
Quote:

Ed.

It sure is - Sacramento County Sheriff Deputies and Rocklin Police some wearing protective gloves, converged on a residential street Thursday as a Sheriff's helicopter circled overhead, ordering people to get inside. It was later learned that the first California coronavirus patient to die from the illness lived on this block.

The Placer County Health Department issued a brief statement shortly after the police presence stating, "law enforcement partners are currently responding to enforce a health officer's order, we cannot share any additional information to protect patient confidentiality."

The orders were given under sections of California Health and Safety Code that allows Placer Health to "enforce regulations requiring strict isolation, or quarantine if the action is necessary for the protection of the public health." GWP.
Much of the link material is from unaccredited citizen journalists which is a credit to them, as well it exposes the mainstream journalism profession as unreliable.
---
RE: Sacramento Police Order Residents to Stay Inside Due to Coronavirus Fears - Martin Timothy - 03-08-2020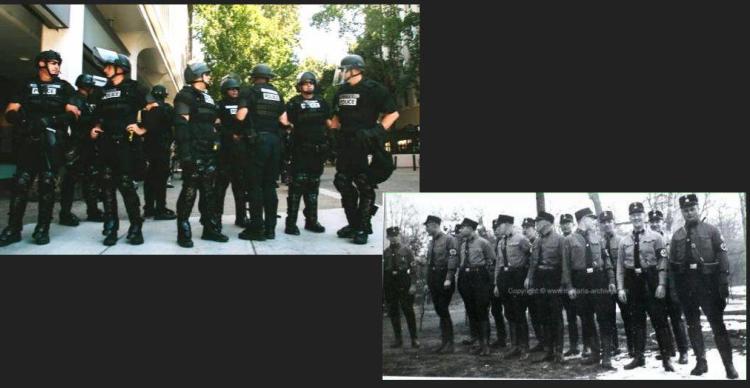 Large File.


Quote:Check the uncanny resemblance in the group profiles of the uniformed thugs in situ to carry out the orders of the ZOG in Sacramento, and the Sturmabteilung "Brownshirts" whose thuggery contributed to the rise of Adolf Hitler who was a Jew, who were wiped out to a man in the Night of the Long Knives Massacres that began in June 1934, after H was sworn in as German Chancellor Jan. 30 1933.
---